Driving eco-shifts in Australia | Operation Green
2020.06.24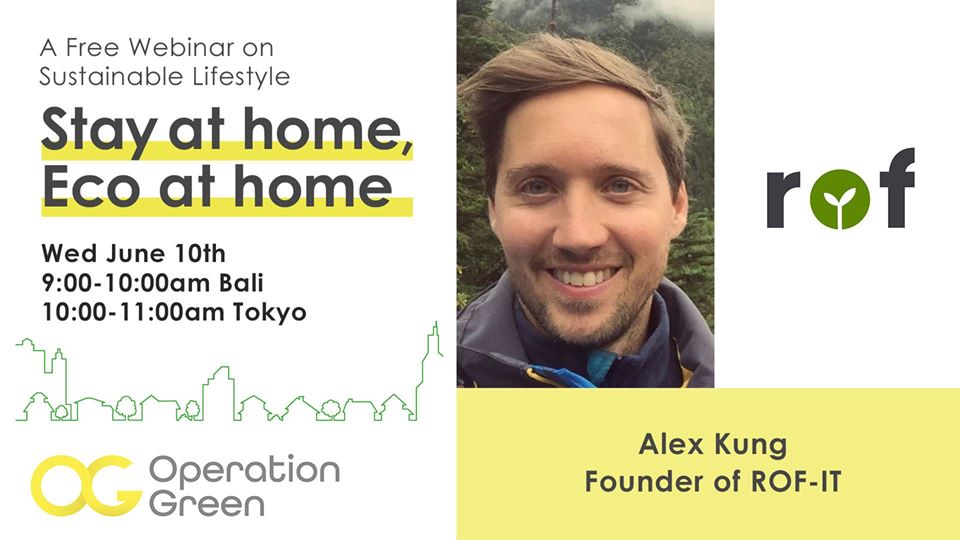 Driving eco-shifts in Australia
A report summarizing a sustainable lifestyle webinar featuring Alex Küng of Reducing Our Footprint
On June 10, 2020, Operation Green hosted our first English session of the "Stay at Home, Eco at Home" series. We were thrilled to see a diverse audience across multiple continents — from different corners of Asia and even a participant from Kenya!
This webinar titled "Driving an eco-shift in Australia" featured Alex Küng, GM & Co-Founder of Reducing Our Footprint, an expert in providing tailor-made sustainability solutions to individuals and organizations. In the session, he shared his first-hand experiences in driving environmental change across businesses, communities, and festivals in Australia.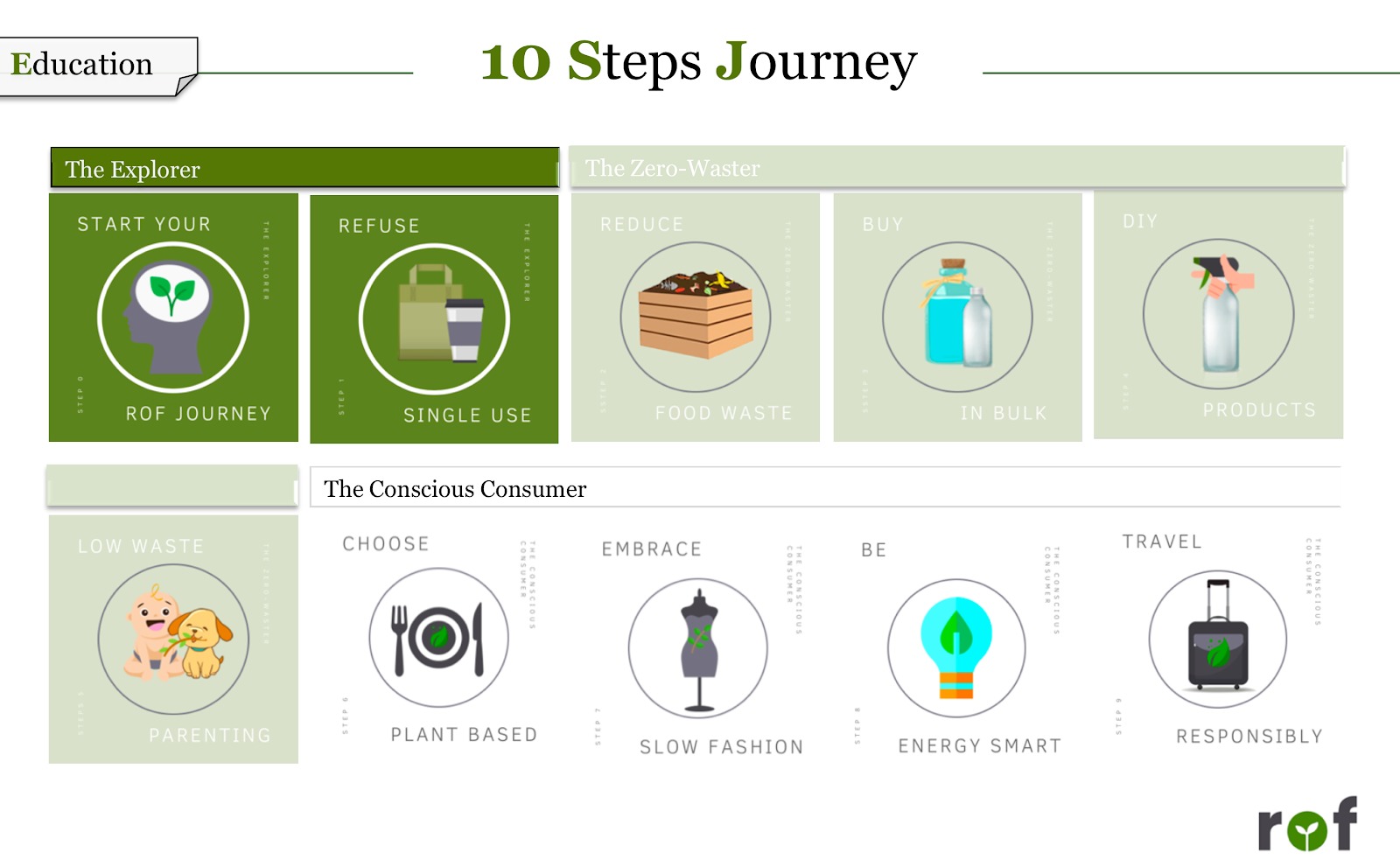 Alex's three key messages
1.  If you don't know where to start, you can follow the ROF 10 steps— begin your journey from becoming the Explorer, Zero-Waster, and then Conscious Consumer!
2. Don't seek perfection; let's look at what we can do to make a big impact from small changes.
3. Be collaborative to grow together with individuals and organizations who share a common vision; believing in the change and spreading the positive message.
Watch the webinar recording!
Here you can watch the recording of Alex's session.
Starting an eco shift from home
Alex shared practical steps to start incorporating sustainability into our daily life, from as simple as shopping in a bulk store to as sophisticated as making our own DIY organic detergents.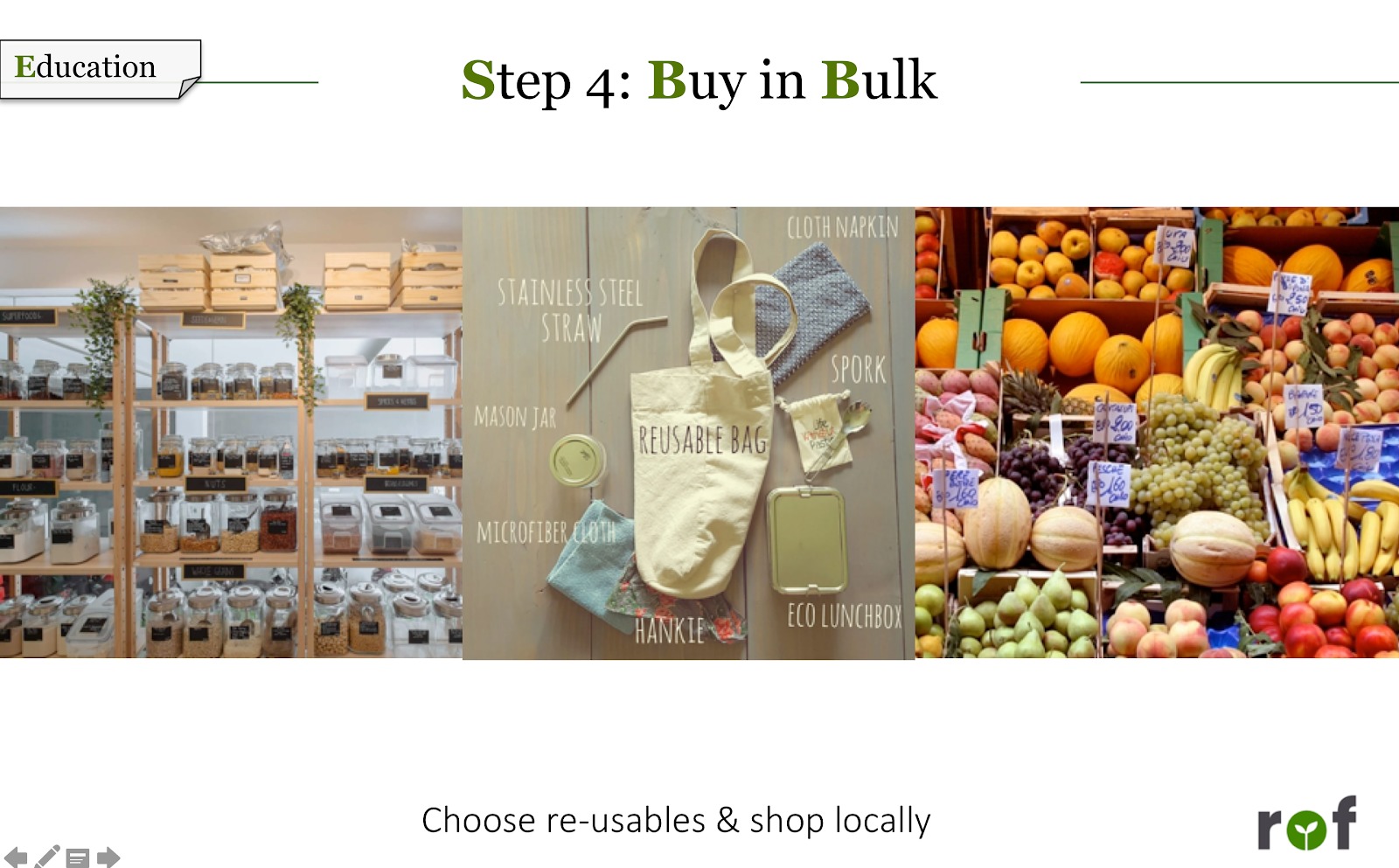 Buying in bulk prevents all the unnecessary packaging, which can reduce an individual's plastic waste by 70-80%.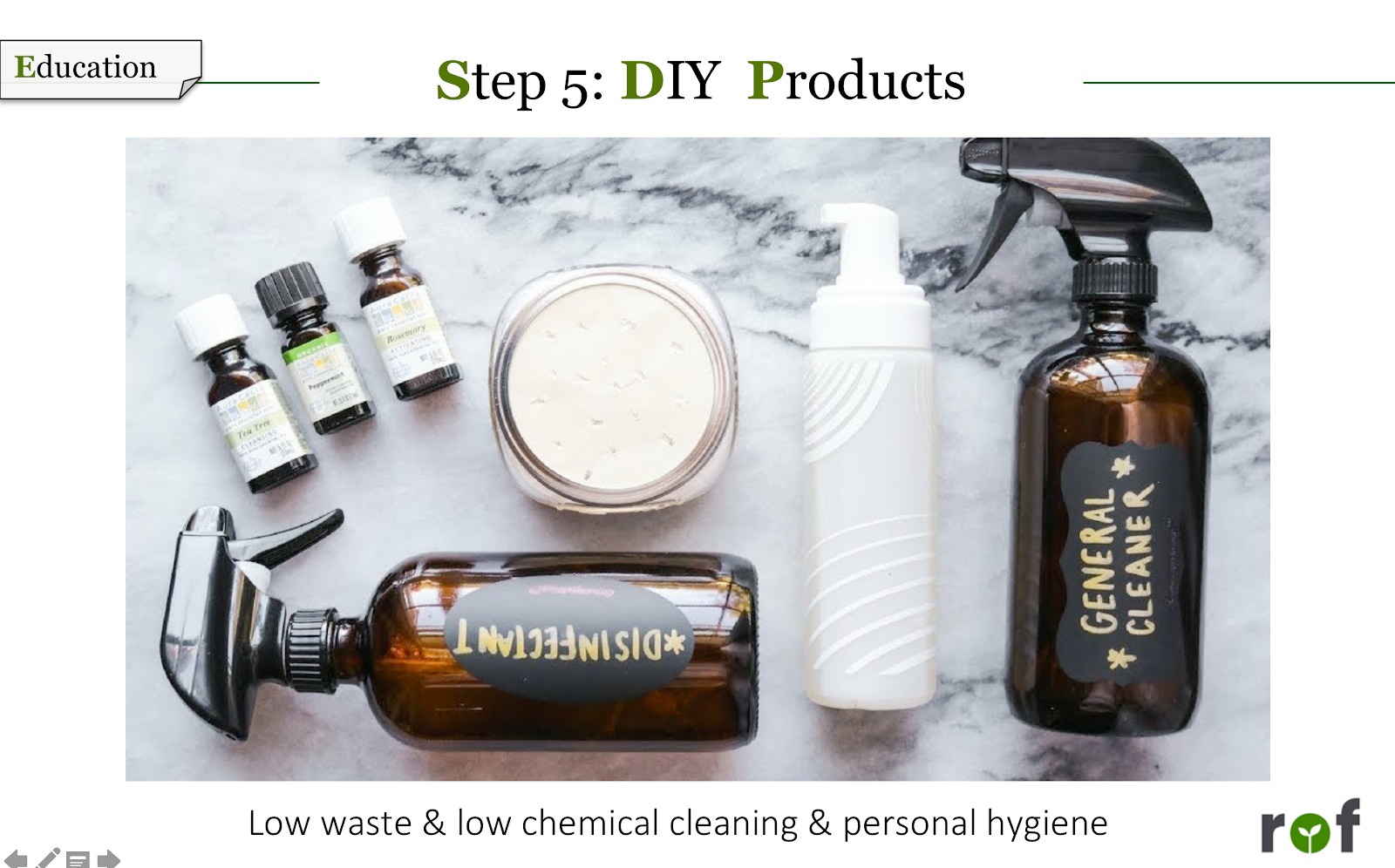 You will be surprised to know how many low-waste and low-chemical cleaning and personal hygiene products that one can make at home. These are some of ROF's most popular seminar topics. Stay tuned, there will be more online courses on their website! 
Lessons learned from creating inclusive and greener working spaces
Alex also shared his experiences in bringing sustainability to organizations and companies.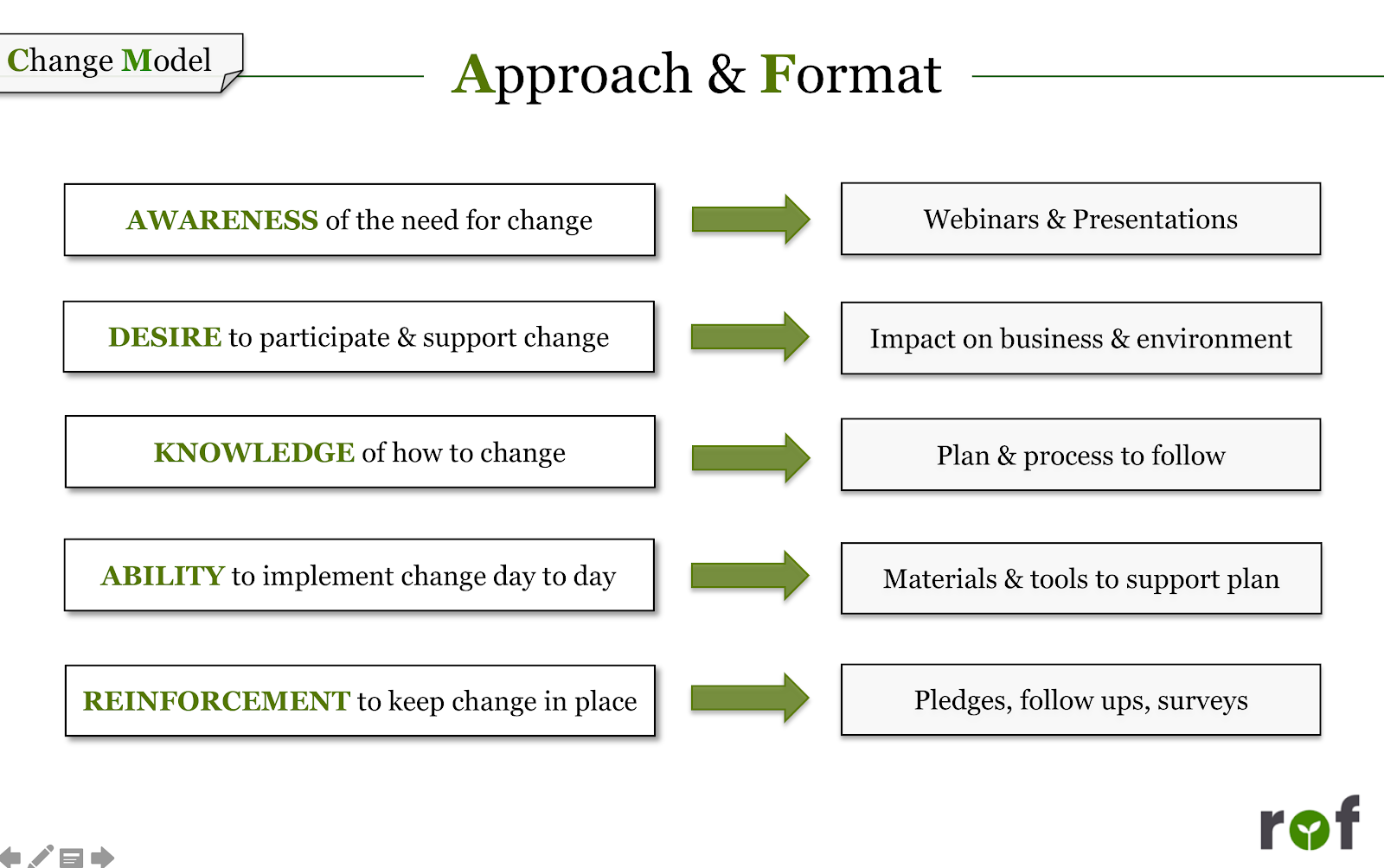 He uses a framework called ADKAR to provide clear solutions and paths for his clients.
Among the many lessons that Alex learned, the key to a successful eco shift is to work closely with a team of motivated staff including the people who are in charge of the corporate HR and communications.
It's important to remember that incorporating sustainable practices into an office is not just about being eco-friendly. It's also about talent acquisition, team building, corporate image, marketing PR, and cost-efficiency.
Alex also pointed out the fact that his clients in the private sector often seek metrics to justify environmental solutions. This is understandable. Yet we should always have a holistic perspective since driving an eco-shift is not only about making a green office but also about influencing how people work together to create a more active and healthy community.  
Leading by example: from individuals to organizations
A total of 35 participants attended this webinar, with 92.9% expressing their interest in taking up Alex's free consultation on sustainability shifts.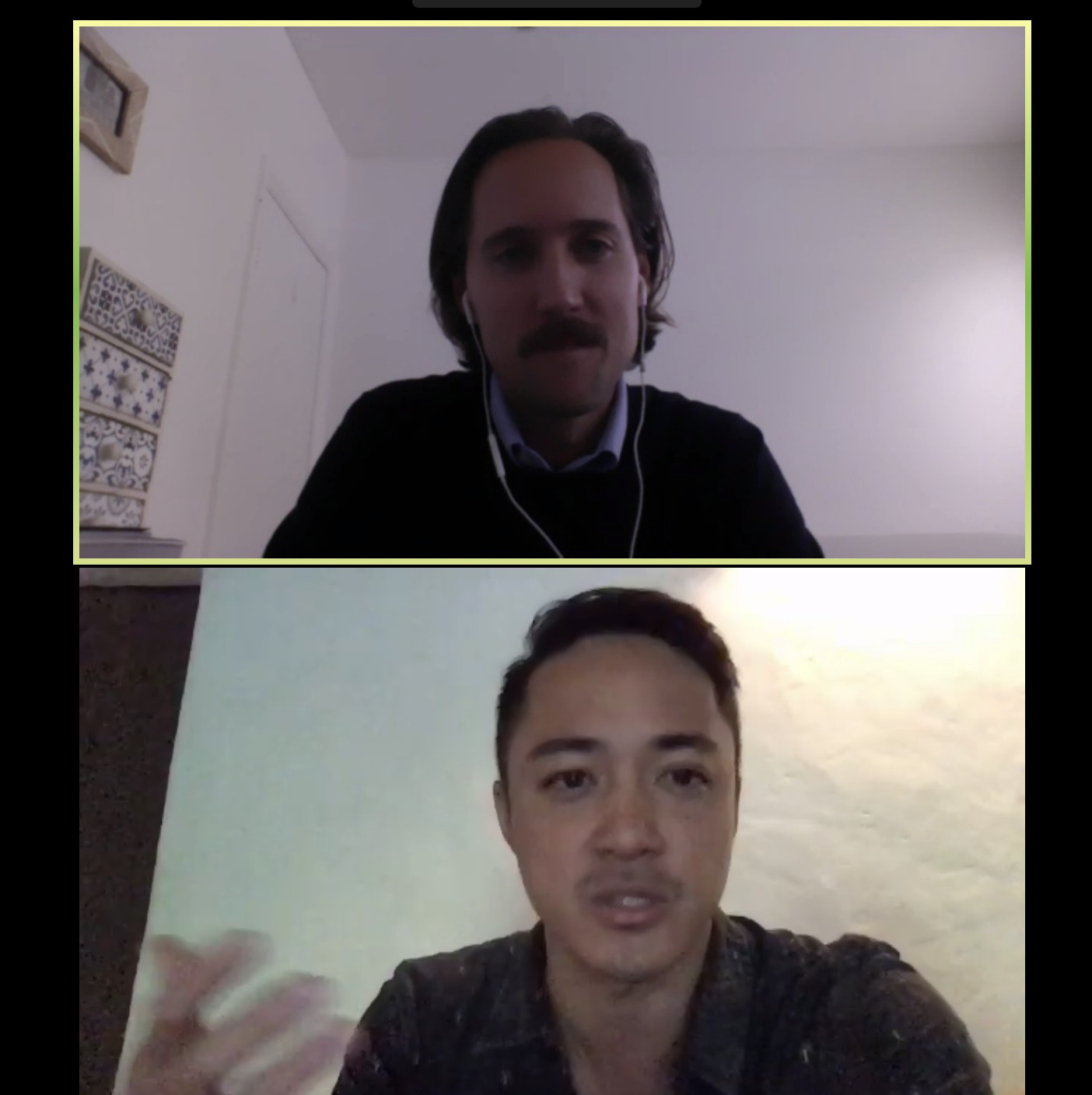 There were many questions from the attendees such as:
"What is the most cost-effective eco practice to start with?"
"Where should we turn to for reliable information on sustainability?"
"Who is the best person to work with to roll out sustainability in big companies?"
To the question "How do you effectively encourage family, friends, and co-workers to adopt sustainable lifestyles?" Alex answered "leading by example."
He explained that making a change within yourself is the most effective way to spread sustainable practices at your home and community.
Alex also mentioned that if you want to create a green office, the employees must bring these practices back to their homes. What essentially drives the eco-shift is the individuals' passion for a sustainable lifestyle, for them to feel that it's the right thing to do.
 Until the pandemic started, Operation Green had focused on facilitating the adoption of eco-operations among businesses, schools, and NGOs. By hosting this webinar series "Stay at Home, Eco at Home" and collaborating with Alex, however, we have realized that working with individuals and organizations goes hand in hand, both equally important approaches in creating a sustainable society.   
This report was written by Yo Watanabe from Earth Company)
About the Speaker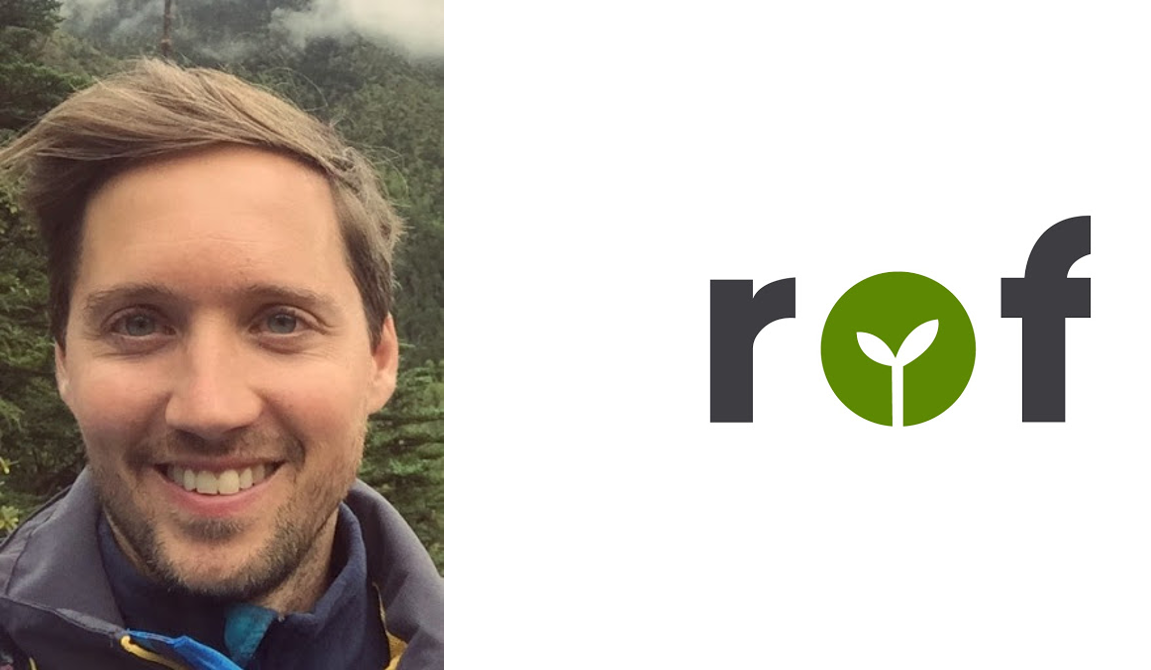 Alex Küng
GM & Co-Founder of Reducing Our Footprint (ROF)
Alex is a passionate environmental advocate and has 14 years of experience in business development and managerial roles across Asia Pacific. He is currently the GM and co-founder of ROF-IT, an Australian based environmental consulting firm providing personalized sustainable solutions to individuals, businesses, organizations and festivals to reduce waste and incorporate closed loop projects in support of the planet.
More on ROT-IT
About Operation Green
Operation Green is an Earth Company initiative supported by the Japan Fund for Global Environment under the Japanese Ministry of Environment. It aims to facilitate the adoption of eco-operations among businesses, schools, and NGOs through an original framework and case studies.
About "Stay at Home, Eco at Home"
During this stay-at-home pandemic, Operation Green invites you to learn and implement sustainable practices in your home environment. The "Stay at Home, Eco at Home" webinar series features inspiring eco-practitioners from all walks of life to share their stories and tips.